{"id":1952355975241,"title":"Amazing Sequin Pillows Let You Draw Anything On Them","handle":"amazing-sequin-pillows-let-you-draw-anything-on-them","description":"\u003ch2 style=\"text-align: center;\"\u003e\u003cspan style=\"color: #ff9900;\"\u003eWhen it comes to throw pillows, if you don't like the design you bought, you pretty much have to buy a new one. Not anymore! With these cool new pillow cases made from sequin, you can design your own pillow just the way you want it. By pushing the sequin one way they become one color, and if you push them in the opposite direction they change colors.\u003c\/span\u003e\u003c\/h2\u003e\n\u003cp\u003e\u003cspan\u003e\u003cimg src=\"https:\/\/odditymall.com\/includes\/content\/upload\/sequin-pillows-7335.gif\" alt=\"Sequin Pillows Let You Draw Anything On Them - Drawable pillows\" width=\"652\" height=\"366\" style=\"display: block; margin-left: auto; margin-right: auto;\"\u003e\u003c\/span\u003e\u003c\/p\u003e\n\u003cp\u003e\u003cspan\u003eEach side of each sequin is different colored, so you can run your hand down the pillow and make a line. This way you can draw cool things into the face of the pillow, like a smiley face, a heart, words, numbers, or really wherever your imagination takes you. Need to reset? Just wave your hand over the pillow to erase everything and start with a fresh canvas.\u003c\/span\u003e\u003c\/p\u003e\n\u003cp\u003e\u003cspan\u003e\u003cimg src=\"https:\/\/odditymall.com\/includes\/content\/amazing-sequin-pillows-lets-you-draw-anything-on-them-thumb.gif\" alt=\"Amazing Sequin Pillows Let You Draw Anything On Them\" width=\"385\" height=\"354\" style=\"display: block; margin-left: auto; margin-right: auto;\"\u003e\u003c\/span\u003e\u003c\/p\u003e\n\u003cp\u003e\u003cspan\u003eNo longer will you have to have boring pillows on the couch that really serve no purpose other than sitting their looking fancy. Now you can use your pillows as entertainment, and have a nice fancy new pillow design every day.\u003c\/span\u003e\u003c\/p\u003e\n\u003cp\u003e\u003cspan\u003e\u003cimg src=\"https:\/\/odditymall.com\/includes\/content\/upload\/sequin-pillows-5106.gif\" alt=\"Sequin Pillows Let You Draw Anything On Them - Drawable pillows\" width=\"661\" height=\"371\" style=\"display: block; margin-left: auto; margin-right: auto;\"\u003e\u003c\/span\u003e\u003c\/p\u003e\n\u003cp\u003e\u003cspan class=\"a-text-bold\" style=\"color: #e06666;\"\u003eFeatures:\u003c\/span\u003e\u003c\/p\u003e\n\u003cul\u003e\n\u003cli\u003ePlaying with the changing sequins is absolutely amazing at keeping children entertained and calm.\u003c\/li\u003e\n\u003cli\u003eMermaid pillow case is a very good stress reliever for adult, which will bring you a therapeutic experience. Please imagine that you sit on a comfortable sofa and flip sequins on a mermaid pillow when you back to home after a whole day work. \u003cspan class=\"a-text-bold\"\u003eYou will have a very relaxing time with the mermaid pillowcase!\u003c\/span\u003e\n\u003c\/li\u003e\n\u003c\/ul\u003e\n\u003cp\u003e\u003cspan style=\"color: #e06666;\"\u003eMaterial: \u003c\/span\u003e\u003c\/p\u003e\n\u003cul\u003e\n\u003cli\u003epolyester and sequin.\u003c\/li\u003e\n\u003c\/ul\u003e\n\u003cspan style=\"color: #e06666;\"\u003eSize:\u003c\/span\u003e\u003cbr\u003e\n\u003cul\u003e\n\u003cli\u003eapprox.15.7\"*15.7\" (40*40 CM), recommend applicable to 17.7\"*17.7\"(45*45 CM) pillow insert. Many different colors for choice!\u003c\/li\u003e\n\u003c\/ul\u003e\n\u003cp\u003e\u003cspan style=\"color: #e06666;\"\u003eNote:\u003c\/span\u003e\u003c\/p\u003e\n\u003cul\u003e\n\u003cli\u003eNo. 1, No. 4, No. 9, which has been sold off\u003c\/li\u003e\n\u003c\/ul\u003e\n\u003ctable width=\"100%\"\u003e\n\u003ctbody\u003e\n\u003ctr\u003e\n\u003ctd\u003e\u003cspan\u003e Dear customer, if you have any questions after purchasing the order, please contact us, here is our email \u003c\/span\u003e\u003c\/td\u003e\n\u003c\/tr\u003e\n\u003ctr\u003e\n\u003ctd\u003e \u003cspan\u003eDQLH2018070616@outlook.com\u003c\/span\u003e\n\u003c\/td\u003e\n\u003c\/tr\u003e\n\u003c\/tbody\u003e\n\u003c\/table\u003e","published_at":"2018-12-02T20:12:40-06:00","created_at":"2018-12-02T21:01:50-06:00","vendor":"Watchot","type":"","tags":[],"price":2299,"price_min":2299,"price_max":6897,"available":true,"price_varies":true,"compare_at_price":4000,"compare_at_price_min":4000,"compare_at_price_max":4000,"compare_at_price_varies":false,"variants":[{"id":18085625823305,"title":"No.2(Black + white) \/ One piece 50% OFF","option1":"No.2(Black + white)","option2":"One piece 50% OFF","option3":null,"sku":"AE20001591HBS2","requires_shipping":true,"taxable":false,"featured_image":{"id":5756351709257,"product_id":1952355975241,"position":1,"created_at":"2018-12-02T21:02:03-06:00","updated_at":"2018-12-02T21:02:03-06:00","alt":null,"width":700,"height":699,"src":"https:\/\/cdn.shopify.com\/s\/files\/1\/0030\/3729\/8761\/products\/1543804694_1.png?v=1543806123","variant_ids":[18085625823305,18085625888841,18085625921609]},"available":true,"name":"Amazing Sequin Pillows Let You Draw Anything On Them - No.2(Black + white) \/ One piece 50% OFF","public_title":"No.2(Black + white) \/ One piece 50% OFF","options":["No.2(Black + white)","One piece 50% OFF"],"price":2299,"weight":0,"compare_at_price":4000,"inventory_management":null,"barcode":""},{"id":18085625888841,"title":"No.2(Black + white) \/ Buy 2 pieces minus15$","option1":"No.2(Black + white)","option2":"Buy 2 pieces minus15$","option3":null,"sku":"AE20001591HBS2-2","requires_shipping":true,"taxable":false,"featured_image":{"id":5756351709257,"product_id":1952355975241,"position":1,"created_at":"2018-12-02T21:02:03-06:00","updated_at":"2018-12-02T21:02:03-06:00","alt":null,"width":700,"height":699,"src":"https:\/\/cdn.shopify.com\/s\/files\/1\/0030\/3729\/8761\/products\/1543804694_1.png?v=1543806123","variant_ids":[18085625823305,18085625888841,18085625921609]},"available":true,"name":"Amazing Sequin Pillows Let You Draw Anything On Them - No.2(Black + white) \/ Buy 2 pieces minus15$","public_title":"No.2(Black + white) \/ Buy 2 pieces minus15$","options":["No.2(Black + white)","Buy 2 pieces minus15$"],"price":3098,"weight":0,"compare_at_price":4000,"inventory_management":null,"barcode":""},{"id":18085625921609,"title":"No.2(Black + white) \/ buy 3 get 1 free Free postage","option1":"No.2(Black + white)","option2":"buy 3 get 1 free Free postage","option3":null,"sku":"AE20001591HBS2-4","requires_shipping":true,"taxable":false,"featured_image":{"id":5756351709257,"product_id":1952355975241,"position":1,"created_at":"2018-12-02T21:02:03-06:00","updated_at":"2018-12-02T21:02:03-06:00","alt":null,"width":700,"height":699,"src":"https:\/\/cdn.shopify.com\/s\/files\/1\/0030\/3729\/8761\/products\/1543804694_1.png?v=1543806123","variant_ids":[18085625823305,18085625888841,18085625921609]},"available":true,"name":"Amazing Sequin Pillows Let You Draw Anything On Them - No.2(Black + white) \/ buy 3 get 1 free Free postage","public_title":"No.2(Black + white) \/ buy 3 get 1 free Free postage","options":["No.2(Black + white)","buy 3 get 1 free Free postage"],"price":6897,"weight":0,"compare_at_price":4000,"inventory_management":null,"barcode":""},{"id":18085625987145,"title":"No.3(Silver + white) \/ One piece 50% OFF","option1":"No.3(Silver + white)","option2":"One piece 50% OFF","option3":null,"sku":"AE20001591YBS3","requires_shipping":true,"taxable":false,"featured_image":{"id":5756352331849,"product_id":1952355975241,"position":2,"created_at":"2018-12-02T21:02:05-06:00","updated_at":"2018-12-02T21:02:05-06:00","alt":null,"width":699,"height":702,"src":"https:\/\/cdn.shopify.com\/s\/files\/1\/0030\/3729\/8761\/products\/1543804723_1.png?v=1543806125","variant_ids":[18085625987145,18085626019913,18085626085449]},"available":true,"name":"Amazing Sequin Pillows Let You Draw Anything On Them - No.3(Silver + white) \/ One piece 50% OFF","public_title":"No.3(Silver + white) \/ One piece 50% OFF","options":["No.3(Silver + white)","One piece 50% OFF"],"price":2299,"weight":0,"compare_at_price":4000,"inventory_management":null,"barcode":""},{"id":18085626019913,"title":"No.3(Silver + white) \/ Buy 2 pieces minus15$","option1":"No.3(Silver + white)","option2":"Buy 2 pieces minus15$","option3":null,"sku":"AE20001591YBS3-2","requires_shipping":true,"taxable":false,"featured_image":{"id":5756352331849,"product_id":1952355975241,"position":2,"created_at":"2018-12-02T21:02:05-06:00","updated_at":"2018-12-02T21:02:05-06:00","alt":null,"width":699,"height":702,"src":"https:\/\/cdn.shopify.com\/s\/files\/1\/0030\/3729\/8761\/products\/1543804723_1.png?v=1543806125","variant_ids":[18085625987145,18085626019913,18085626085449]},"available":true,"name":"Amazing Sequin Pillows Let You Draw Anything On Them - No.3(Silver + white) \/ Buy 2 pieces minus15$","public_title":"No.3(Silver + white) \/ Buy 2 pieces minus15$","options":["No.3(Silver + white)","Buy 2 pieces minus15$"],"price":3098,"weight":0,"compare_at_price":4000,"inventory_management":null,"barcode":""},{"id":18085626085449,"title":"No.3(Silver + white) \/ buy 3 get 1 free Free postage","option1":"No.3(Silver + white)","option2":"buy 3 get 1 free Free postage","option3":null,"sku":"AE20001591YBS3-4","requires_shipping":true,"taxable":false,"featured_image":{"id":5756352331849,"product_id":1952355975241,"position":2,"created_at":"2018-12-02T21:02:05-06:00","updated_at":"2018-12-02T21:02:05-06:00","alt":null,"width":699,"height":702,"src":"https:\/\/cdn.shopify.com\/s\/files\/1\/0030\/3729\/8761\/products\/1543804723_1.png?v=1543806125","variant_ids":[18085625987145,18085626019913,18085626085449]},"available":true,"name":"Amazing Sequin Pillows Let You Draw Anything On Them - No.3(Silver + white) \/ buy 3 get 1 free Free postage","public_title":"No.3(Silver + white) \/ buy 3 get 1 free Free postage","options":["No.3(Silver + white)","buy 3 get 1 free Free postage"],"price":6897,"weight":0,"compare_at_price":4000,"inventory_management":null,"barcode":""},{"id":18085626118217,"title":"No.5(Champagne gold + gold) \/ One piece 50% OFF","option1":"No.5(Champagne gold + gold)","option2":"One piece 50% OFF","option3":null,"sku":"AE20001591XBJ5","requires_shipping":true,"taxable":false,"featured_image":{"id":5756353216585,"product_id":1952355975241,"position":3,"created_at":"2018-12-02T21:02:08-06:00","updated_at":"2018-12-02T21:02:08-06:00","alt":null,"width":701,"height":701,"src":"https:\/\/cdn.shopify.com\/s\/files\/1\/0030\/3729\/8761\/products\/1543804755_1.png?v=1543806128","variant_ids":[18085626118217,18085626150985,18085626216521]},"available":true,"name":"Amazing Sequin Pillows Let You Draw Anything On Them - No.5(Champagne gold + gold) \/ One piece 50% OFF","public_title":"No.5(Champagne gold + gold) \/ One piece 50% OFF","options":["No.5(Champagne gold + gold)","One piece 50% OFF"],"price":2299,"weight":0,"compare_at_price":4000,"inventory_management":null,"barcode":""},{"id":18085626150985,"title":"No.5(Champagne gold + gold) \/ Buy 2 pieces minus15$","option1":"No.5(Champagne gold + gold)","option2":"Buy 2 pieces minus15$","option3":null,"sku":"AE20001591XBJ5-2","requires_shipping":true,"taxable":false,"featured_image":{"id":5756353216585,"product_id":1952355975241,"position":3,"created_at":"2018-12-02T21:02:08-06:00","updated_at":"2018-12-02T21:02:08-06:00","alt":null,"width":701,"height":701,"src":"https:\/\/cdn.shopify.com\/s\/files\/1\/0030\/3729\/8761\/products\/1543804755_1.png?v=1543806128","variant_ids":[18085626118217,18085626150985,18085626216521]},"available":true,"name":"Amazing Sequin Pillows Let You Draw Anything On Them - No.5(Champagne gold + gold) \/ Buy 2 pieces minus15$","public_title":"No.5(Champagne gold + gold) \/ Buy 2 pieces minus15$","options":["No.5(Champagne gold + gold)","Buy 2 pieces minus15$"],"price":3098,"weight":0,"compare_at_price":4000,"inventory_management":null,"barcode":""},{"id":18085626216521,"title":"No.5(Champagne gold + gold) \/ buy 3 get 1 free Free postage","option1":"No.5(Champagne gold + gold)","option2":"buy 3 get 1 free Free postage","option3":null,"sku":"AE20001591XBJ5-4","requires_shipping":true,"taxable":false,"featured_image":{"id":5756353216585,"product_id":1952355975241,"position":3,"created_at":"2018-12-02T21:02:08-06:00","updated_at":"2018-12-02T21:02:08-06:00","alt":null,"width":701,"height":701,"src":"https:\/\/cdn.shopify.com\/s\/files\/1\/0030\/3729\/8761\/products\/1543804755_1.png?v=1543806128","variant_ids":[18085626118217,18085626150985,18085626216521]},"available":true,"name":"Amazing Sequin Pillows Let You Draw Anything On Them - No.5(Champagne gold + gold) \/ buy 3 get 1 free Free postage","public_title":"No.5(Champagne gold + gold) \/ buy 3 get 1 free Free postage","options":["No.5(Champagne gold + gold)","buy 3 get 1 free Free postage"],"price":6897,"weight":0,"compare_at_price":4000,"inventory_management":null,"barcode":""},{"id":18085626249289,"title":"No.6(Pink + gold) \/ One piece 50% OFF","option1":"No.6(Pink + gold)","option2":"One piece 50% OFF","option3":null,"sku":"AE20001591FJS6","requires_shipping":true,"taxable":false,"featured_image":{"id":5756353904713,"product_id":1952355975241,"position":4,"created_at":"2018-12-02T21:02:11-06:00","updated_at":"2018-12-02T21:02:11-06:00","alt":null,"width":700,"height":701,"src":"https:\/\/cdn.shopify.com\/s\/files\/1\/0030\/3729\/8761\/products\/1543804791_1.png?v=1543806131","variant_ids":[18085626249289,18085626282057,18085626314825]},"available":true,"name":"Amazing Sequin Pillows Let You Draw Anything On Them - No.6(Pink + gold) \/ One piece 50% OFF","public_title":"No.6(Pink + gold) \/ One piece 50% OFF","options":["No.6(Pink + gold)","One piece 50% OFF"],"price":2299,"weight":0,"compare_at_price":4000,"inventory_management":null,"barcode":""},{"id":18085626282057,"title":"No.6(Pink + gold) \/ Buy 2 pieces minus15$","option1":"No.6(Pink + gold)","option2":"Buy 2 pieces minus15$","option3":null,"sku":"AE20001591FJS6-2","requires_shipping":true,"taxable":false,"featured_image":{"id":5756353904713,"product_id":1952355975241,"position":4,"created_at":"2018-12-02T21:02:11-06:00","updated_at":"2018-12-02T21:02:11-06:00","alt":null,"width":700,"height":701,"src":"https:\/\/cdn.shopify.com\/s\/files\/1\/0030\/3729\/8761\/products\/1543804791_1.png?v=1543806131","variant_ids":[18085626249289,18085626282057,18085626314825]},"available":true,"name":"Amazing Sequin Pillows Let You Draw Anything On Them - No.6(Pink + gold) \/ Buy 2 pieces minus15$","public_title":"No.6(Pink + gold) \/ Buy 2 pieces minus15$","options":["No.6(Pink + gold)","Buy 2 pieces minus15$"],"price":3098,"weight":0,"compare_at_price":4000,"inventory_management":null,"barcode":""},{"id":18085626314825,"title":"No.6(Pink + gold) \/ buy 3 get 1 free Free postage","option1":"No.6(Pink + gold)","option2":"buy 3 get 1 free Free postage","option3":null,"sku":"AE20001591FJS6-4","requires_shipping":true,"taxable":false,"featured_image":{"id":5756353904713,"product_id":1952355975241,"position":4,"created_at":"2018-12-02T21:02:11-06:00","updated_at":"2018-12-02T21:02:11-06:00","alt":null,"width":700,"height":701,"src":"https:\/\/cdn.shopify.com\/s\/files\/1\/0030\/3729\/8761\/products\/1543804791_1.png?v=1543806131","variant_ids":[18085626249289,18085626282057,18085626314825]},"available":true,"name":"Amazing Sequin Pillows Let You Draw Anything On Them - No.6(Pink + gold) \/ buy 3 get 1 free Free postage","public_title":"No.6(Pink + gold) \/ buy 3 get 1 free Free postage","options":["No.6(Pink + gold)","buy 3 get 1 free Free postage"],"price":6897,"weight":0,"compare_at_price":4000,"inventory_management":null,"barcode":""},{"id":18085626347593,"title":"No.7(Blue + silver) \/ One piece 50% OFF","option1":"No.7(Blue + silver)","option2":"One piece 50% OFF","option3":null,"sku":"AE20001591LYS7","requires_shipping":true,"taxable":false,"featured_image":{"id":5756354429001,"product_id":1952355975241,"position":5,"created_at":"2018-12-02T21:02:14-06:00","updated_at":"2018-12-02T21:02:14-06:00","alt":null,"width":701,"height":701,"src":"https:\/\/cdn.shopify.com\/s\/files\/1\/0030\/3729\/8761\/products\/1543804825_1.png?v=1543806134","variant_ids":[18085626347593,18085626380361,18085626413129]},"available":true,"name":"Amazing Sequin Pillows Let You Draw Anything On Them - No.7(Blue + silver) \/ One piece 50% OFF","public_title":"No.7(Blue + silver) \/ One piece 50% OFF","options":["No.7(Blue + silver)","One piece 50% OFF"],"price":2299,"weight":0,"compare_at_price":4000,"inventory_management":null,"barcode":""},{"id":18085626380361,"title":"No.7(Blue + silver) \/ Buy 2 pieces minus15$","option1":"No.7(Blue + silver)","option2":"Buy 2 pieces minus15$","option3":null,"sku":"AE20001591LYS7-2","requires_shipping":true,"taxable":false,"featured_image":{"id":5756354429001,"product_id":1952355975241,"position":5,"created_at":"2018-12-02T21:02:14-06:00","updated_at":"2018-12-02T21:02:14-06:00","alt":null,"width":701,"height":701,"src":"https:\/\/cdn.shopify.com\/s\/files\/1\/0030\/3729\/8761\/products\/1543804825_1.png?v=1543806134","variant_ids":[18085626347593,18085626380361,18085626413129]},"available":true,"name":"Amazing Sequin Pillows Let You Draw Anything On Them - No.7(Blue + silver) \/ Buy 2 pieces minus15$","public_title":"No.7(Blue + silver) \/ Buy 2 pieces minus15$","options":["No.7(Blue + silver)","Buy 2 pieces minus15$"],"price":3098,"weight":0,"compare_at_price":4000,"inventory_management":null,"barcode":""},{"id":18085626413129,"title":"No.7(Blue + silver) \/ buy 3 get 1 free Free postage","option1":"No.7(Blue + silver)","option2":"buy 3 get 1 free Free postage","option3":null,"sku":"AE20001591LYS7-4","requires_shipping":true,"taxable":false,"featured_image":{"id":5756354429001,"product_id":1952355975241,"position":5,"created_at":"2018-12-02T21:02:14-06:00","updated_at":"2018-12-02T21:02:14-06:00","alt":null,"width":701,"height":701,"src":"https:\/\/cdn.shopify.com\/s\/files\/1\/0030\/3729\/8761\/products\/1543804825_1.png?v=1543806134","variant_ids":[18085626347593,18085626380361,18085626413129]},"available":true,"name":"Amazing Sequin Pillows Let You Draw Anything On Them - No.7(Blue + silver) \/ buy 3 get 1 free Free postage","public_title":"No.7(Blue + silver) \/ buy 3 get 1 free Free postage","options":["No.7(Blue + silver)","buy 3 get 1 free Free postage"],"price":6897,"weight":0,"compare_at_price":4000,"inventory_management":null,"barcode":""},{"id":18085626445897,"title":"No.8(Black + gold) \/ One piece 50% OFF","option1":"No.8(Black + gold)","option2":"One piece 50% OFF","option3":null,"sku":"AE20001591HJS8","requires_shipping":true,"taxable":false,"featured_image":{"id":5756354953289,"product_id":1952355975241,"position":6,"created_at":"2018-12-02T21:02:16-06:00","updated_at":"2018-12-02T21:02:16-06:00","alt":null,"width":700,"height":700,"src":"https:\/\/cdn.shopify.com\/s\/files\/1\/0030\/3729\/8761\/products\/1543804849_1.png?v=1543806136","variant_ids":[18085626445897,18085626478665,18085626511433]},"available":true,"name":"Amazing Sequin Pillows Let You Draw Anything On Them - No.8(Black + gold) \/ One piece 50% OFF","public_title":"No.8(Black + gold) \/ One piece 50% OFF","options":["No.8(Black + gold)","One piece 50% OFF"],"price":2299,"weight":0,"compare_at_price":4000,"inventory_management":null,"barcode":""},{"id":18085626478665,"title":"No.8(Black + gold) \/ Buy 2 pieces minus15$","option1":"No.8(Black + gold)","option2":"Buy 2 pieces minus15$","option3":null,"sku":"AE20001591HJS8-2","requires_shipping":true,"taxable":false,"featured_image":{"id":5756354953289,"product_id":1952355975241,"position":6,"created_at":"2018-12-02T21:02:16-06:00","updated_at":"2018-12-02T21:02:16-06:00","alt":null,"width":700,"height":700,"src":"https:\/\/cdn.shopify.com\/s\/files\/1\/0030\/3729\/8761\/products\/1543804849_1.png?v=1543806136","variant_ids":[18085626445897,18085626478665,18085626511433]},"available":true,"name":"Amazing Sequin Pillows Let You Draw Anything On Them - No.8(Black + gold) \/ Buy 2 pieces minus15$","public_title":"No.8(Black + gold) \/ Buy 2 pieces minus15$","options":["No.8(Black + gold)","Buy 2 pieces minus15$"],"price":3098,"weight":0,"compare_at_price":4000,"inventory_management":null,"barcode":""},{"id":18085626511433,"title":"No.8(Black + gold) \/ buy 3 get 1 free Free postage","option1":"No.8(Black + gold)","option2":"buy 3 get 1 free Free postage","option3":null,"sku":"AE20001591HJS8-4","requires_shipping":true,"taxable":false,"featured_image":{"id":5756354953289,"product_id":1952355975241,"position":6,"created_at":"2018-12-02T21:02:16-06:00","updated_at":"2018-12-02T21:02:16-06:00","alt":null,"width":700,"height":700,"src":"https:\/\/cdn.shopify.com\/s\/files\/1\/0030\/3729\/8761\/products\/1543804849_1.png?v=1543806136","variant_ids":[18085626445897,18085626478665,18085626511433]},"available":true,"name":"Amazing Sequin Pillows Let You Draw Anything On Them - No.8(Black + gold) \/ buy 3 get 1 free Free postage","public_title":"No.8(Black + gold) \/ buy 3 get 1 free Free postage","options":["No.8(Black + gold)","buy 3 get 1 free Free postage"],"price":6897,"weight":0,"compare_at_price":4000,"inventory_management":null,"barcode":""},{"id":18085626544201,"title":"No.10(Pink + white) \/ One piece 50% OFF","option1":"No.10(Pink + white)","option2":"One piece 50% OFF","option3":null,"sku":"AE20001591FBS10","requires_shipping":true,"taxable":false,"featured_image":{"id":5756355543113,"product_id":1952355975241,"position":7,"created_at":"2018-12-02T21:02:19-06:00","updated_at":"2018-12-02T21:02:19-06:00","alt":null,"width":701,"height":700,"src":"https:\/\/cdn.shopify.com\/s\/files\/1\/0030\/3729\/8761\/products\/1543804875_1.png?v=1543806139","variant_ids":[18085626544201,18085626576969,18085626609737]},"available":true,"name":"Amazing Sequin Pillows Let You Draw Anything On Them - No.10(Pink + white) \/ One piece 50% OFF","public_title":"No.10(Pink + white) \/ One piece 50% OFF","options":["No.10(Pink + white)","One piece 50% OFF"],"price":2299,"weight":0,"compare_at_price":4000,"inventory_management":null,"barcode":""},{"id":18085626576969,"title":"No.10(Pink + white) \/ Buy 2 pieces minus15$","option1":"No.10(Pink + white)","option2":"Buy 2 pieces minus15$","option3":null,"sku":"AE20001591FBS10-2","requires_shipping":true,"taxable":false,"featured_image":{"id":5756355543113,"product_id":1952355975241,"position":7,"created_at":"2018-12-02T21:02:19-06:00","updated_at":"2018-12-02T21:02:19-06:00","alt":null,"width":701,"height":700,"src":"https:\/\/cdn.shopify.com\/s\/files\/1\/0030\/3729\/8761\/products\/1543804875_1.png?v=1543806139","variant_ids":[18085626544201,18085626576969,18085626609737]},"available":true,"name":"Amazing Sequin Pillows Let You Draw Anything On Them - No.10(Pink + white) \/ Buy 2 pieces minus15$","public_title":"No.10(Pink + white) \/ Buy 2 pieces minus15$","options":["No.10(Pink + white)","Buy 2 pieces minus15$"],"price":3098,"weight":0,"compare_at_price":4000,"inventory_management":null,"barcode":""},{"id":18085626609737,"title":"No.10(Pink + white) \/ buy 3 get 1 free Free postage","option1":"No.10(Pink + white)","option2":"buy 3 get 1 free Free postage","option3":null,"sku":"AE20001591FBS10-4","requires_shipping":true,"taxable":false,"featured_image":{"id":5756355543113,"product_id":1952355975241,"position":7,"created_at":"2018-12-02T21:02:19-06:00","updated_at":"2018-12-02T21:02:19-06:00","alt":null,"width":701,"height":700,"src":"https:\/\/cdn.shopify.com\/s\/files\/1\/0030\/3729\/8761\/products\/1543804875_1.png?v=1543806139","variant_ids":[18085626544201,18085626576969,18085626609737]},"available":true,"name":"Amazing Sequin Pillows Let You Draw Anything On Them - No.10(Pink + white) \/ buy 3 get 1 free Free postage","public_title":"No.10(Pink + white) \/ buy 3 get 1 free Free postage","options":["No.10(Pink + white)","buy 3 get 1 free Free postage"],"price":6897,"weight":0,"compare_at_price":4000,"inventory_management":null,"barcode":""},{"id":18085626642505,"title":"No.11(Gold + white) \/ One piece 50% OFF","option1":"No.11(Gold + white)","option2":"One piece 50% OFF","option3":null,"sku":"AE20001591JYS11","requires_shipping":true,"taxable":false,"featured_image":{"id":5756356034633,"product_id":1952355975241,"position":8,"created_at":"2018-12-02T21:02:22-06:00","updated_at":"2018-12-02T21:02:22-06:00","alt":null,"width":700,"height":700,"src":"https:\/\/cdn.shopify.com\/s\/files\/1\/0030\/3729\/8761\/products\/1543804910_1.png?v=1543806142","variant_ids":[18085626642505,18085626675273,18085626708041]},"available":true,"name":"Amazing Sequin Pillows Let You Draw Anything On Them - No.11(Gold + white) \/ One piece 50% OFF","public_title":"No.11(Gold + white) \/ One piece 50% OFF","options":["No.11(Gold + white)","One piece 50% OFF"],"price":2299,"weight":0,"compare_at_price":4000,"inventory_management":null,"barcode":""},{"id":18085626675273,"title":"No.11(Gold + white) \/ Buy 2 pieces minus15$","option1":"No.11(Gold + white)","option2":"Buy 2 pieces minus15$","option3":null,"sku":"AE20001591JYS11-2","requires_shipping":true,"taxable":false,"featured_image":{"id":5756356034633,"product_id":1952355975241,"position":8,"created_at":"2018-12-02T21:02:22-06:00","updated_at":"2018-12-02T21:02:22-06:00","alt":null,"width":700,"height":700,"src":"https:\/\/cdn.shopify.com\/s\/files\/1\/0030\/3729\/8761\/products\/1543804910_1.png?v=1543806142","variant_ids":[18085626642505,18085626675273,18085626708041]},"available":true,"name":"Amazing Sequin Pillows Let You Draw Anything On Them - No.11(Gold + white) \/ Buy 2 pieces minus15$","public_title":"No.11(Gold + white) \/ Buy 2 pieces minus15$","options":["No.11(Gold + white)","Buy 2 pieces minus15$"],"price":3098,"weight":0,"compare_at_price":4000,"inventory_management":null,"barcode":""},{"id":18085626708041,"title":"No.11(Gold + white) \/ buy 3 get 1 free Free postage","option1":"No.11(Gold + white)","option2":"buy 3 get 1 free Free postage","option3":null,"sku":"AE20001591JYS11-4","requires_shipping":true,"taxable":false,"featured_image":{"id":5756356034633,"product_id":1952355975241,"position":8,"created_at":"2018-12-02T21:02:22-06:00","updated_at":"2018-12-02T21:02:22-06:00","alt":null,"width":700,"height":700,"src":"https:\/\/cdn.shopify.com\/s\/files\/1\/0030\/3729\/8761\/products\/1543804910_1.png?v=1543806142","variant_ids":[18085626642505,18085626675273,18085626708041]},"available":true,"name":"Amazing Sequin Pillows Let You Draw Anything On Them - No.11(Gold + white) \/ buy 3 get 1 free Free postage","public_title":"No.11(Gold + white) \/ buy 3 get 1 free Free postage","options":["No.11(Gold + white)","buy 3 get 1 free Free postage"],"price":6897,"weight":0,"compare_at_price":4000,"inventory_management":null,"barcode":""}],"images":["\/\/cdn.shopify.com\/s\/files\/1\/0030\/3729\/8761\/products\/1543804694_1.png?v=1543806123","\/\/cdn.shopify.com\/s\/files\/1\/0030\/3729\/8761\/products\/1543804723_1.png?v=1543806125","\/\/cdn.shopify.com\/s\/files\/1\/0030\/3729\/8761\/products\/1543804755_1.png?v=1543806128","\/\/cdn.shopify.com\/s\/files\/1\/0030\/3729\/8761\/products\/1543804791_1.png?v=1543806131","\/\/cdn.shopify.com\/s\/files\/1\/0030\/3729\/8761\/products\/1543804825_1.png?v=1543806134","\/\/cdn.shopify.com\/s\/files\/1\/0030\/3729\/8761\/products\/1543804849_1.png?v=1543806136","\/\/cdn.shopify.com\/s\/files\/1\/0030\/3729\/8761\/products\/1543804875_1.png?v=1543806139","\/\/cdn.shopify.com\/s\/files\/1\/0030\/3729\/8761\/products\/1543804910_1.png?v=1543806142"],"featured_image":"\/\/cdn.shopify.com\/s\/files\/1\/0030\/3729\/8761\/products\/1543804694_1.png?v=1543806123","options":["Colour","Discount"],"content":"\u003ch2 style=\"text-align: center;\"\u003e\u003cspan style=\"color: #ff9900;\"\u003eWhen it comes to throw pillows, if you don't like the design you bought, you pretty much have to buy a new one. Not anymore! With these cool new pillow cases made from sequin, you can design your own pillow just the way you want it. By pushing the sequin one way they become one color, and if you push them in the opposite direction they change colors.\u003c\/span\u003e\u003c\/h2\u003e\n\u003cp\u003e\u003cspan\u003e\u003cimg src=\"https:\/\/odditymall.com\/includes\/content\/upload\/sequin-pillows-7335.gif\" alt=\"Sequin Pillows Let You Draw Anything On Them - Drawable pillows\" width=\"652\" height=\"366\" style=\"display: block; margin-left: auto; margin-right: auto;\"\u003e\u003c\/span\u003e\u003c\/p\u003e\n\u003cp\u003e\u003cspan\u003eEach side of each sequin is different colored, so you can run your hand down the pillow and make a line. This way you can draw cool things into the face of the pillow, like a smiley face, a heart, words, numbers, or really wherever your imagination takes you. Need to reset? Just wave your hand over the pillow to erase everything and start with a fresh canvas.\u003c\/span\u003e\u003c\/p\u003e\n\u003cp\u003e\u003cspan\u003e\u003cimg src=\"https:\/\/odditymall.com\/includes\/content\/amazing-sequin-pillows-lets-you-draw-anything-on-them-thumb.gif\" alt=\"Amazing Sequin Pillows Let You Draw Anything On Them\" width=\"385\" height=\"354\" style=\"display: block; margin-left: auto; margin-right: auto;\"\u003e\u003c\/span\u003e\u003c\/p\u003e\n\u003cp\u003e\u003cspan\u003eNo longer will you have to have boring pillows on the couch that really serve no purpose other than sitting their looking fancy. Now you can use your pillows as entertainment, and have a nice fancy new pillow design every day.\u003c\/span\u003e\u003c\/p\u003e\n\u003cp\u003e\u003cspan\u003e\u003cimg src=\"https:\/\/odditymall.com\/includes\/content\/upload\/sequin-pillows-5106.gif\" alt=\"Sequin Pillows Let You Draw Anything On Them - Drawable pillows\" width=\"661\" height=\"371\" style=\"display: block; margin-left: auto; margin-right: auto;\"\u003e\u003c\/span\u003e\u003c\/p\u003e\n\u003cp\u003e\u003cspan class=\"a-text-bold\" style=\"color: #e06666;\"\u003eFeatures:\u003c\/span\u003e\u003c\/p\u003e\n\u003cul\u003e\n\u003cli\u003ePlaying with the changing sequins is absolutely amazing at keeping children entertained and calm.\u003c\/li\u003e\n\u003cli\u003eMermaid pillow case is a very good stress reliever for adult, which will bring you a therapeutic experience. Please imagine that you sit on a comfortable sofa and flip sequins on a mermaid pillow when you back to home after a whole day work. \u003cspan class=\"a-text-bold\"\u003eYou will have a very relaxing time with the mermaid pillowcase!\u003c\/span\u003e\n\u003c\/li\u003e\n\u003c\/ul\u003e\n\u003cp\u003e\u003cspan style=\"color: #e06666;\"\u003eMaterial: \u003c\/span\u003e\u003c\/p\u003e\n\u003cul\u003e\n\u003cli\u003epolyester and sequin.\u003c\/li\u003e\n\u003c\/ul\u003e\n\u003cspan style=\"color: #e06666;\"\u003eSize:\u003c\/span\u003e\u003cbr\u003e\n\u003cul\u003e\n\u003cli\u003eapprox.15.7\"*15.7\" (40*40 CM), recommend applicable to 17.7\"*17.7\"(45*45 CM) pillow insert. Many different colors for choice!\u003c\/li\u003e\n\u003c\/ul\u003e\n\u003cp\u003e\u003cspan style=\"color: #e06666;\"\u003eNote:\u003c\/span\u003e\u003c\/p\u003e\n\u003cul\u003e\n\u003cli\u003eNo. 1, No. 4, No. 9, which has been sold off\u003c\/li\u003e\n\u003c\/ul\u003e\n\u003ctable width=\"100%\"\u003e\n\u003ctbody\u003e\n\u003ctr\u003e\n\u003ctd\u003e\u003cspan\u003e Dear customer, if you have any questions after purchasing the order, please contact us, here is our email \u003c\/span\u003e\u003c\/td\u003e\n\u003c\/tr\u003e\n\u003ctr\u003e\n\u003ctd\u003e \u003cspan\u003eDQLH2018070616@outlook.com\u003c\/span\u003e\n\u003c\/td\u003e\n\u003c\/tr\u003e\n\u003c\/tbody\u003e\n\u003c\/table\u003e"}
Amazing Sequin Pillows Let You Draw Anything On Them
Amazing Sequin Pillows Let You Draw Anything On Them
Product Description
When it comes to throw pillows, if you don't like the design you bought, you pretty much have to buy a new one. Not anymore! With these cool new pillow cases made from sequin, you can design your own pillow just the way you want it. By pushing the sequin one way they become one color, and if you push them in the opposite direction they change colors.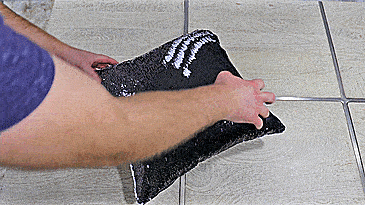 Each side of each sequin is different colored, so you can run your hand down the pillow and make a line. This way you can draw cool things into the face of the pillow, like a smiley face, a heart, words, numbers, or really wherever your imagination takes you. Need to reset? Just wave your hand over the pillow to erase everything and start with a fresh canvas.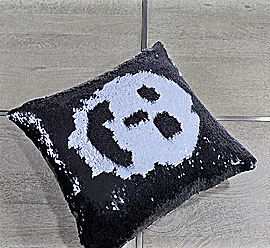 No longer will you have to have boring pillows on the couch that really serve no purpose other than sitting their looking fancy. Now you can use your pillows as entertainment, and have a nice fancy new pillow design every day.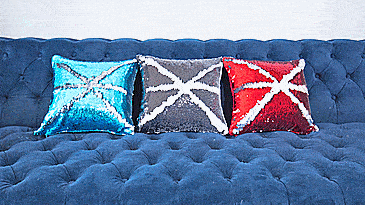 Features:
Playing with the changing sequins is absolutely amazing at keeping children entertained and calm.
Mermaid pillow case is a very good stress reliever for adult, which will bring you a therapeutic experience. Please imagine that you sit on a comfortable sofa and flip sequins on a mermaid pillow when you back to home after a whole day work. 

You will have a very relaxing time with the mermaid pillowcase!
Material:
Size:
approx.15.7"*15.7" (40*40 CM), recommend applicable to 17.7"*17.7"(45*45 CM) pillow insert. Many different colors for choice!
Note:
No. 1, No. 4, No. 9, which has been sold off
 Dear customer, if you have any questions after purchasing the order, please contact us, here is our email 
DQLH2018070616@outlook.com